---
AHS Update: EMS/811 Shared Response reducing unnecessary ambulance responses, clinical trial using made-in-Alberta technology to start soon
Full Version
February 10, 2023
Please print and share with your teams as needed
To all staff, physicians and volunteers,
Action On Our Priorities
We are working to urgently address four key priorities. They are:
Improving EMS response times.
Decreasing emergency department wait times.
Reducing wait times for surgeries.
Improving access to acute care beds and community care.
Much of this work is underway. We will continue to use this update to highlight actions being taken to urgently address our priorities.
Improving EMS response times
EMS/811 Shared Response reduces unnecessary ambulance responses
A new 911 to EMS call response process is helping patients get the care they need and reducing unnecessary ambulance responses.
Through EMS/811 Shared Response, low-acuity EMS callers are being transferred to Health Link 811 where registered nurses provide callers with further assessment to determine what type of care and support is needed.
In the first three weeks of Shared Response, EMS assessed more than 1,600 callers as low acuity and connected them to 811. Among the patients who were assessed and advised by Health Link RNs, approximately 25 per cent were advised they may care for themselves at home, while 30 per cent were advised to see a physician.
In other jurisdictions with similar processes, up to 20 per cent of EMS calls are transferred to nursing lines over time. EMS could be freed from responding to approximately 40,000 low-acuity calls each year, if AHS is able to realize a similar call transfer rate.
---
Interim CEO message – a discussion about Shared Response
AHS is working to improve EMS response times and ensure Albertans needing emergency care get that care. As you read in the above item, EMS/811 Shared Response is one of the ways we're working to address continued system pressures and create capacity within the EMS system.
Joining the AHS Vlog to talk more about EMS/811 Shared Response are:
Jim Garland, Associate Executive Director, EMS Dispatch and Communications.
Tricia Chambers, Senior Provincial Director, Virtual Care, Access and Navigation.

---
Reducing wait times for surgeries
We're currently at an average of 96 per cent of pre-pandemic surgical volumes, and out total surgical wait-list for adults sits at 71,180. For comparison, in February 2020, before the pandemic, our total wait list was 68,000.
Of those 71,180 patients waiting, approximately 45 per cent are waiting within clinically recommended wait times. Approximately 229,500 surgeries have been completed in the 2022/23 fiscal year.
---
Improving access to acute care beds and community care
Clinical trials begin using Alberta-made Linac-MR machine
Alberta-made Linac-MR technology will be used on its first Alberta patients as part of a clinical trial. The machine combines a medical linear accelerator (Linac) used for radiation cancer therapy and a magnetic resonance (MR) imaging system that's particularly useful for soft tissue sites where most cancers occur.
Combining these two technologies enables real-time tumour tracking and correction of radiotherapy targeting responding to body or tumour movements with improved imaging. This, in turn, allows for tighter radiotherapy margins and a more powerful dose of radiation.
This approach can lead to improved patient outcomes and reduce the number of treatments required by each patient, improving patient experience and patient flow.
Dr. Gino Fallone, Professor and Director of Medical Physics at the Cross Cancer Institute and the University of Alberta, poses beside a Linac-MR machine, which provides the world's most advanced radiation therapy for treatment of tumours. It will be used soon in clinical trials.
---
Work continues on other AHS priorities, including:
Rural & Indigenous Initiatives and Engagement
AHS, Friendship Centres Association extend agreement
AHS signed a new three-year agreement last month to continue its long-standing, collaborative partnership with the Alberta Native Friendship Centres Association (ANFCA). The agreement defines collaborative ideas and areas of focus to build on an already strong working relationship between the two organizations that share the same goal: to improve access to culturally safe healthcare and health outcomes for Indigenous people.
ANFCA is mandated to support 21 member friendship centres across the province. These autonomous centres respond to needs as identified by the communities they serve; the range of programs and services offered varies greatly and includes, but is not limited to, accredited alternative schools, daycares, youth centres, employment programs, homeless shelters, cultural camps, socio-economic, health promotion and prevention and life skills programs.
---
Public interest in AHS advisory councils continues to grow
Starting in 2009, AHS advisory councils hosted in-person meetings in communities across Alberta. This changed in early 2020 when in-person meetings were no longer possible due to the pandemic.
As conduits between local communities and AHS, it was vital this key point of connection remain accessible. Since 2020, advisory councils have adopted a combination of virtual and in-person meetings as they shift to functioning and managing ongoing pandemic protocols.
Public interest in their meetings and engagement activities continues to grow. In January, nearly 300 members of the public attended seven virtual Health Advisory Council meetings; an average of 42 per meeting. This is a significant increase from before the pandemic when councils drew an average of 10 public members per meeting. A range of topics have been discussed, including addiction and mental health, workforce recruitment, lab services and cancer screening.
To attend an upcoming meeting visit ahs.ca/advisorycouncils.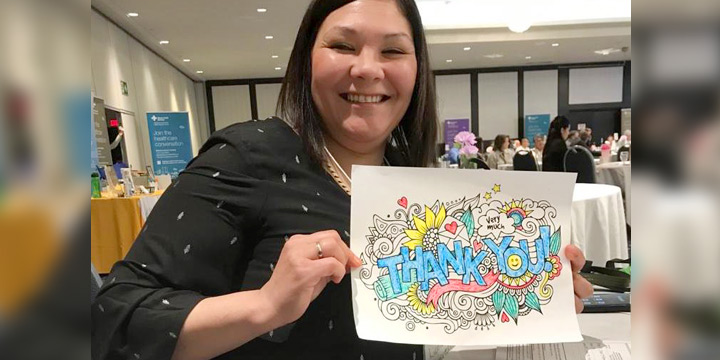 Liane Mercredi, a True North Health Advisory Council member.
---
Your Wellness
Resilience app available to you and your family
When you download the app, you will complete an assessment to receive a resilience score and suggested lessons. Lessons take less than five minutes and can be done anytime, anywhere.
To sign up, visit Homeweb and click on headversity to register and download the app using the App Store or Google Play. Use the code AHSHWH to log in. Family members can use the code AHSFAM.
For support with any issue, call the Employee and Family Assistance Program (EFAP) intake line at 1-877-273-3134. Physicians can contact the AMA Physician and Family Support Program, a confidential support line, at 1-877-SOS-4MDS.
---
Spread kindness for Pink Shirt Day
We encourage everyone to be kind and choose respect by wearing pink on Feb. 22 to live our values by being an upstander and ally. Also, take a few minutes to learn more about how to create respect in the workplace. Here are a few other ideas to get involved:
Questions? See our Pink Shirt Day Guide.
---
Mental Wellness Moment — workplace mental health
In this Mental Wellness Moment, Dr. Nicholas Mitchell — Provincial Medical Director of Addictions and Mental Health with Alberta Health Services — talks about what employers and employees can do to promote mental wellness in the workplace.

Latest News
COVID-19 status and cases in Alberta
Hospitalizations and ICUs
On Jan. 30:
701 individuals were in non-ICU hospital beds with COVID-19, compared to 782 on Jan. 24, a 10.4 percent decrease.
25 individuals were in ICU, compared with 29 on Jan. 24, a 13.8 percent decrease.
Note: Hospitalization data is presented with a one-week delay to more accurately reflect the number of hospitalized patients who tested positive for COVID-19. There is a delay in identification of some hospitalized cases due to the time between being admitted to hospital, getting tested, and getting test results.
Variants of Concern
Alberta Precision Laboratories continues to closely monitor SARS-CoV-2 variants. From Jan. 16 to 22, an average of 75 per cent of positive samples were strain-typed. An estimated 47 per cent were BQ.1.1 and 29 per cent were other BQ.1 lineages (based off the previous month's sequencing results). Other BA.5 lineages and BA.2 lineages (including XBB.1.5 and other XBB lineages) make up the minority of cases. To date in Alberta, we have seen 92 cases of XBB.1.5 and 105 cases of other XBB lineages.
Wastewater Surveillance
Wastewater can provide an early indication of COVID-19 infection trends in a community. For wastewater surveillance comparing weekly averages:
Eight sites increased by more than 25 per cent compared to the weekly average in the last report. These sites were Taber, Medicine Hat, Okotoks, Strathmore, Calgary and area, Banff, Edson and Fort McMurray.
The other 12 sites decreased or had no significant changes.
High River has not recorded new data since Dec. 22, 2022.
The above interpretations were made from available data as of Feb. 6 at 9 a.m.
Other notable COVID-19-related information
As of Feb. 6, 5,510 individuals have passed away from COVID-19, including 40 deaths since the last report. We extend our condolences to the families of these individuals, and to all who have lost loved ones from any cause during this time.
As of Feb. 6, 33,799 individuals have been hospitalized with COVID-19 in Alberta.
From Jan 24 to Feb. 6, 10,630 COVID-19 tests were completed, a 14-day average of 759 tests per day. During this period, the daily percent positivity ranged from 7.7 per cent to 16.6 per cent.
---
Popular virtual care resources have been updated
Virtual care helps connect us to patients and other healthcare providers when we cannot be in the same location. AHS Virtual Health offers a wide range of resources and tools on Insite that help AHS staff and healthcare providers better understand virtual care and support them in delivering safe, high-quality care effectively.
Many of these resources have recently been updated with new URLs. If you bookmarked virtual care resources prior to December 2022, it is important to save the new links. Popular resources you may wish to bookmark include:
If you have questions about these resources, contact virtualhealth.info@ahs.ca.
---
Nominations now open for innovation award
The new Dr. William Cochrane Health System Innovation Award recognizes the contributions Albertans have made to transform the healthcare system and patient outcomes through innovation.
This award recognizes an individual or leader of a team who has made a significant contribution to health system innovation, and who is actively engaged in research, development and scaling of health system innovations.
Eligible nominees can come from clinical, research, and business backgrounds. Nominations close Feb. 28. Learn more.
---
Wrapping Up
Tuesday is Valentine's Day, a time we think about the people we love and for whom we care. I'll take this opportunity to thank you for the care you provide Albertans, either directly or indirectly, through your work. I also encourage you to care for yourselves, as you care for others. For support with any issue call the Employee and Family Assistance Program (EFAP) intake line at 1-877-273-3134. Physicians can contact the AMA Physician and Family Support Program, a confidential support line, at 1-877-SOS-4MDS.
Thank you for your efforts advancing our four priorities. You are making a difference.
Mauro Chies
Interim AHS President & CEO