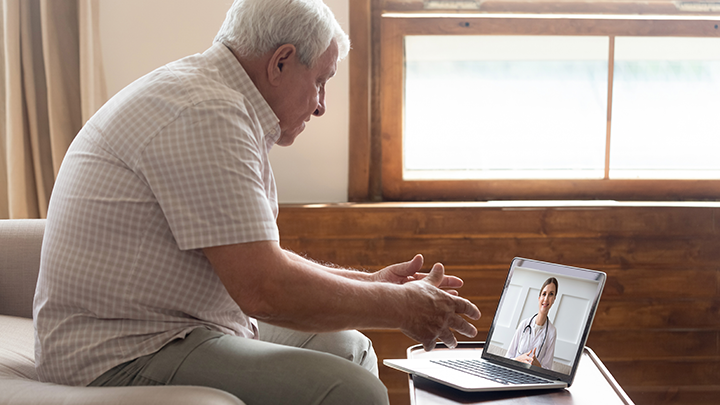 How you "see" your doctor may have changed, but primary care doctors are here for you. Many are now seeing patients by phone or video calls.
Safe Doctor Visits
If you need to see a doctor in person, be assured your visit will be safe.
"Everybody who's scheduled to come in person is screened within 24 hours for symptoms of COVID-19. If they screen positive for those symptoms — they're booked strategically," says Dr. Janet Reynolds. She's a family physician and the medical director of Calgary Foothills Primary Care Network.
Patients must wear a mask, use hand sanitizer and go directly to an exam room. Doctors wear full personal protective equipment when with patients.
Top 10 Reasons to Call a Family Physician During COVID-19
Renew a prescription or adjust medications
Support, assessment or follow up of pre-existing chronic health conditions, for example high blood pressure or diabetes
Support or assessment of a new health concern
Mental health and addiction concerns
Sexual and reproductive health concerns
Pregnancy and newborn care
Healthy baby and child check-ups
Support for social issues and connection to community resources
Minor injuries
Other questions about your health, or a need for health education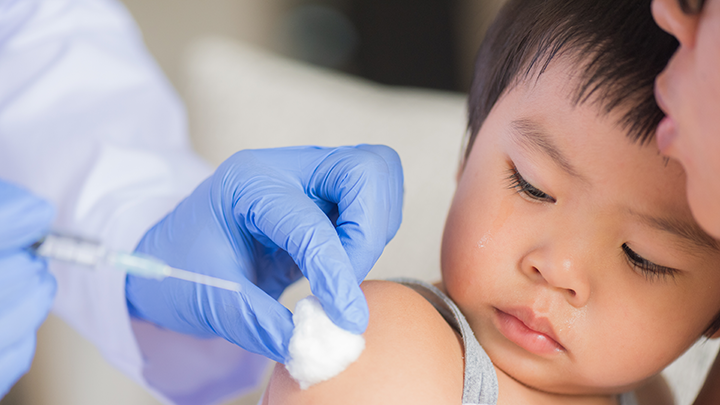 Keep the youngest members of your family healthy by keeping their immunizations up to date during the COVID-19 pandemic. Call 811 or your local public health centre to book an appointment.
Immunization Priorities
Infant immunizations at 2, 4, 6 and 12 months of age are continuing at all AHS public health clinics. Clinics will be "fast-flow" and appointments shorter. They will include immunization, infant height and weight, post-partum depression screen and a review of parents' questions and concerns.
18 month and pre-school immunizations are continuing with shorter and fewer appointments. These will include immunization, height and weight and a review of parents' question and concerns.
Immunization Changes
School immunizations: the COVID-19 pandemic may have delayed your children's immunizations in the 2019-2020 school year. For those Grade 6 and 9 students who missed their shots, they will receive them when schools open again.
Routine adult immunizations: clinics vary across the province, and some may be closed. Call 811 or your local public health clinic for details in your community.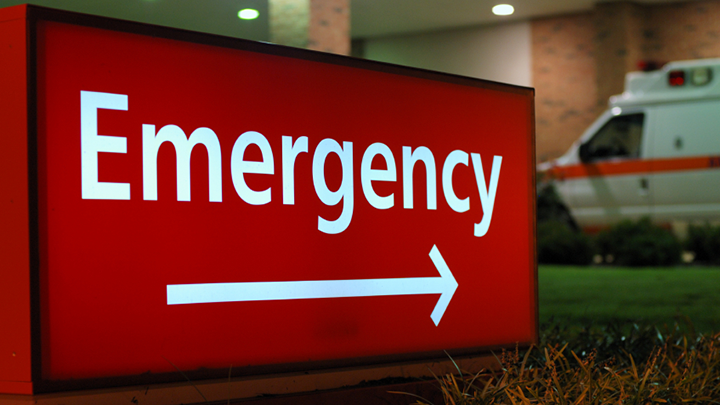 If you have a medical emergency, AHS' emergency departments are open for you. Many precautions are in place to ensure a safe visit to prevent the spread of COVID-19.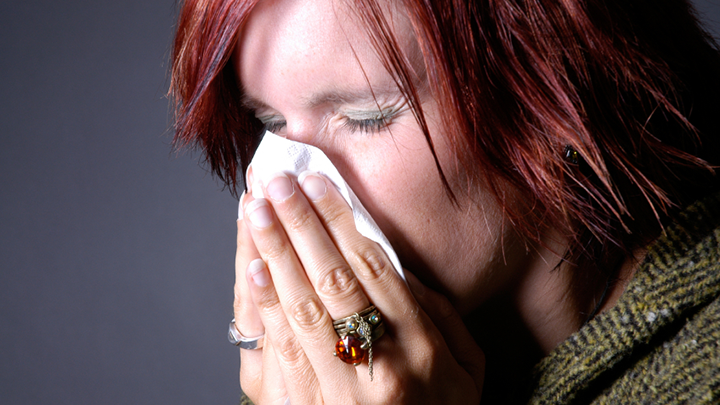 Do you have COVID-19 symptoms? Our self-assessment tool is a quick way to ensure you get the testing you may need.
Many Services are Open and Safe
You're practising physical distancing, washing your hands often and staying at home to flatten the COVID-19 curve. But are you looking after all your healthcare needs?
"During this pandemic, healthcare and health issues for Albertans have not stopped," says Dr. Linda Slocombe. She's the senior medical director of Primary Health Care for Alberta Health Services (AHS).
"Many people still have chronic conditions such as diabetes, high blood pressure and underlying heart disease. People still need maternity, prenatal, pediatric and geriatric care. It's very important to see a doctor if you need to."
Primary Care a Phone Call Away
In a recent podcast, Slocombe says "primary care is here to help you look after your health conditions."
Her advice: Get in touch with your family doctor by phone first. They'll advise you about the best approach for your health at this time.
The president of the Alberta Medical Association's family medicine section echoes the importance of seeing your family doctor.
"For many Albertans, it's their family doctor who knows them best and we are still here for you," says Craig Hodgson. "If a patient needs help with their continuing or new healthcare needs . . . I would encourage them not to wait."
Since the COVID-19 pandemic began, safety concerns and technology have changed the way you "see" your primary care physician. Phone and video calls are now more common than office visits.
"We may be providing care in a different way than you're used tom but we are still caring for our patients," says Dr. Janet Reynolds. A family physician and the medical director of Calgary Foothills Primary Care Network, she says "It's really important my patients know that we value the relationship we have with them more than anything."
The doctor/patient relationship is especially good for patients. Research shows patients who have a continuous relationship with a family doctor and team are healthier, live longer and spend less time in hospital.
Primary care networks also have teams of healthcare professionals to help patients during the pandemic. These include nurses, pharmacists, social workers and mental health consultants.
Seniors Health
AHS' Seniors Health offer many services for people of all ages and many healthcare needs, including some in your home. If you or a family member needs healthcare supports in order to stay in your home safely, start with an assessment by a case manager. For details, see Accessing Continuing Care or call Health Link at 811.
During COVID-19 pandemic and any time, the health and safety of our residents is our top priority. Be assured if you need more healthcare services, you will receive them.
More Services Return
Dr. Deena Hinshaw, Alberta's chief medical officer of health, recently announced steps to resume several healthcare services. To re-introduce its services, AHS:
Has created a central booking system for scheduled surgeries
Will contact patients on wait-lists to reschedule procedures
Will focus first on treating those with the highest risk and those who have been waiting the longest
Will continue to work with Alberta Health to evaluate re-opened services and re-introduce other services
Will balance resuming activities with the demands of COVID-19
Dr. Verna Yiu is the president and CEO of AHS. She says "the safety of our patients, staff and physicians will always be our priority. We will relaunch day surgeries in a strategic and thoughtful way and gradually add additional procedures and volumes."
Independent regulated health professionals, such as chiropractors, physiotherapists, psychologists and other community providers, including optometrists, audiologists and dieticians, will also begin resuming operation. They must follow Alberta Health guidance to limit transmission in their settings.
For the latest information, visit: ahs.ca/covid.
Keep Up Childhood Immunizations
Childhood immunization is an essential healthcare service. The "shots" children receive keep them safe for life against diseases that were once as feared as COVID. The more children vaccinated, the safer everyone is in Alberta.
Right now, public health clinics are focused on seeing young children from two to 18 months old. (See Immunization Priorities.)
"We're really passionate about this," says Carrie Collier, the director of Public Health Programs in Calgary. "We've made it safe for parents and children. We want people to stay on top of their children's immunizations."
Joanne Coldham emphasizes the importance of starting and keeping up with immunization. She's the director of Immunization and Rapid Response for Calgary Zone.
"We are working with families to make sure they feel comfortable coming in for their immunization appointment. We don't want to slide on that. We don't want to leave young babies unprotected."
For more information, call Health Link at 811. Parents in Calgary and Edmonton, can also book immunizations through Health Link. If you live elsewhere, call your local public health clinic.
Emergency & Urgent Care Available
Alberta's emergency departments and urgent care centres are open during the pandemic.
Many doctors have seen patients with serious illness who delayed coming to emergency," Dr. Neil Collins says. He's a family medicine physician at the Foothills Medical Centre in Calgary. Collins says one of his patients waited 24 hours after a heart attack to come to the hospital.
"We want to reassure people that, first of all, we have the capacity to see them. We do have the staff to see patients with acute medical needs . . . That's why we are here."
If you need emergency or urgent care during COVID-19, call ahead if you can. And especially if you have COVID-19 symptoms.
Like other healthcare sites, emergency departments and urgent care centres are safe. Staff regularly screen patients and healthcare workers. All are practising effective hand hygiene. Plus, emergency departments are thoroughly cleaned and disinfected regularly.
For more information on emergency care, see our podcast. Also see, AHS emergency department wait times.
Safe Places for Moms-to-be
Hospitals remain a safe place for mothers and newborns.
All the same, expectant mothers need to make labour and delivery plans with their caregivers during the pandemic.
"COVID-19 really shouldn't impact the delivery plan at all," says Dr. Colin Birch. He's the head of Obstetrics and Gynecology for Calgary Zone. But some parts of maternity care in hospital have temporarily changed to improve safety.
Mothers can only have one support person with them during labour and delivery. That person cannot be exchanged for another. For example, a support person can't leave the hospital so a grandparent can visit. When visitors arrive at the hospital, they receive a wristband. When they leave, the wristband is removed and it is not replaced.
If a mom-to-be and her family have been self-isolating, additional precautions will apply.
"We're going to be treating you as though you have COVID, so as not to expose other people," Birch says.
This includes being admitted to an isolated room not shared any other patients. These changes are designed to limit any potential COVID-19 exposures for staff, mothers and newborn babies.
Otherwise, the birthing experience will not change.
Maternity services temporarily closed in southern Albertan during COVID-19 are scheduled to reopen in early June. All inpatient labour and delivery, neonatal intensive care, postpartum and newborn care will be provided again at South Health Campus (SHC) and High River Hospital starting June 3, 2020.
In Edmonton, pregnant women who are self-isolating due to COVID-19 symptoms can go to a recently opened prenatal and postnatal clinic. The clinic is in the Lois Hole Hospital for Women at the Royal Alexandra Hospital in Edmonton. A Covid-19 clinic has also been set up at the PLC in Calgary.
"We needed a safe space where staff and patients feel protected while we link them to the resources they need," says Tracee Pratt. She's executive director of Women's Health at the Lois Hole Hospital.
Patients must be referred and be 24 weeks or more pregnant or up to six week postpartum. The healthcare providers working at the clinic include obstetricians; obstetric, maternal and fetal medicine specialists; family practitioners; registered midwives; nurse practitioners; and public health antenatal home care program.
For up-to-date information on prenatal and maternity care in your community, call 811.
If You Think You Have COVID-19
To protect Albertans, the province is testing for COVID-19 more than almost any place in the world.
The symptoms of COVID-19 included fever, cough, shortness of breath, difficulty breathing, sore throat or runny nose. If have them, complete a self-assessment and follow the online instructions for testing. Talk to Health Link (811) BEFORE going to a physician's office, emergency department, healthcare facility or lab.
If you need immediate medical attention, call 911 and inform them you may have COVID-19.
Domestic Abuse Supports
Whoever you are, wherever you are, you deserve to be safe. Most of us feel safest in our homes, but you may not. If you feel unsafe, support and resources are available to help you.
During the pandemic, help is available for anyone who's being abused, neglected or sexually exploited. Older adults and children and youth can find help dedicated to them. You do not need to go through this alone.
Help If You're Being Abused
Always call 911 in an emergency
Alberta's One Line for Sexual Violence

1-866-402-8000 (toll-free, 9 a.m. to 9 p.m., 170-plus languages)
Online chat: aasas.ca

Family Violence Info Line

310-1818 (24-7, 170-plus languages)
Online chat: alberta.ca/SafetyChat (8 a.m. to 8 p.m. in English only)

Alberta Provincial Abuse Helpline

1-855-4HELPAB (43-5722) (toll-free, 7:30 a.m. to 8 p.m., Monday to Friday, 170-plus languages)

Child Abuse Hotline

1-800-387-KIDS (5437); toll-free, 24-7

Mental Health Helpline

1-877-303-2642; toll-free, 24-7

Elder Abuse
211 Alberta

Call or text 211 for other community and government support in Alberta
Help available in other languages.