---
AHS Update: Work underway to meet EMS hospital time target, AHS wins top employer awards, continuous masking dropped in non-clinical areas
Full Version
March 10, 2023
Please print and share with your teams as needed
To all staff, physicians and volunteers,
Action On Our Priorities
We are working to address four key priorities.
They are:
Improving EMS response times.
Decreasing emergency department wait times.
Reducing wait times for surgeries.
Improving patient flow throughout the healthcare continuum.
Much of this work is underway. We will continue to use this update to highlight actions being taken to address our priorities.
---
Improving patient flow throughout the healthcare continuum
Health Link launches new line for child development concerns
Parents, guardians and caregivers who have concerns about their child's development can now receive free advice and guidance through a phone service launched this month.
By calling Health Link at 811, Albertans with concerns about their child's development — including speech, movement and hearing — can be redirected to the new Pediatric Rehabilitation Line and speak with an occupational therapist or another appropriate allied health professional. Hours of operation are Monday to Friday from 9 a.m. to 5 p.m.
The Pediatric Rehabilitation Line can also help callers who are looking for local services and/or current rehabilitation resources, or need support to help a child or youth recover from COVID-19.
In addition to this new resource, AHS recently launched free Zoom webinars for parents, caregivers, and those who work with children birth to 18 years to learn about child and youth development and needs.
Learn more on the Pediatric Rehabilitation Caregiver Connection Together 4 Health page.
---
Acute care resources added to help AHS meet EMS hospital time target
Work is underway by AHS clinical teams and EMS to reduce the amount of time EMS teams are waiting with patients in emergency departments (EDs). The Canadian standard is 45 minutes, and it will become the AHS standard as well.
AHS is putting in place several acute-care supports to ensure that there are appropriate staff, equipment and spaces to take care of patients brought in by EMS. Supports include hiring of staff, acquiring equipment and ensuring appropriate care spaces are available. No patients will be left in EDs by EMS staff without appropriate handover to ED teams. The transition will be monitored to adjust processes in real time, supporting the ongoing care of patients and staff providing the care. More details.
See item below on how this affects EMS teams.
---
Improving EMS response times
EMS activities identified to support patient transfers
To support the implementation of a 45-minute total hospital time target, the following activities will occur:
EMS supervisors will be assigned to metro and regional hospitals for a 30-day period beginning prior to a go-live launch. Supervisors will help support the EMS transfer of care to the ED/urgent care centre policy, and the corresponding rapid return to service following handovers of care.
EMS managers and directors will have an increased presence at satellite stations to support ongoing engagement and receive feedback on initiatives underway.
Available staff unable to provide patient care may be assigned to sites to support the cleaning and restocking of units at metro and regional hospitals.
All EMS staff have been invited to join a virtual information session hosted by EMS leadership.
---
Reducing wait times for surgeries
We're currently at an average of 109 per cent of pre-pandemic surgical volumes, and our total surgical wait-list for adults sits at 69,268. For comparison, in February 2020, before the pandemic, our total wait-list was 68,000.
Of those patients waiting, 48.6 per cent are waiting within clinically recommended wait times. Approximately 253,400 surgeries have been completed in the 2022/23 fiscal year.
---
Work continues on other AHS priorities including:
Mental Health and Addiction Recovery
Child, adolescent mental health centre opens Monday in Calgary
Calgary and area youth and their families will have improved access to publicly funded mental health services with the opening of a new, $39-million mental health facility in the city's northwest.
The Summit: Marian & Jim Sinneave Centre for Youth Resilience will open its doors to children, teenagers and families on Monday. Healthcare teams will offer three mental health services under one roof for people up to and including 18 years of age, with the goal of reducing incidence of mental health crises through early intervention and effective treatment.
The new centre will support about 8,000 patients and families every year, which is net-new capacity.
The Summit was built in partnership between AHS and the Alberta Children's Hospital Foundation. The foundation raised more than $50 million to fund construction of the centre, as well as innovative program and research enhancements. Read more.
---
Your Wellness
Personalized wellness resources available
Use a sliding scale to determine how you're feeling and get personalized service recommendations based on where you are at.
As part of the enhanced Employee and Family Assistance Program (EFAP) digital experience, you can click on Meet Now at any point and be immediately connected with a service provider for a single session. To access PulseCheck, go to homeweb.ca and create an account.
Call the EFAP intake line any time at 1-877-273-3134 if you need confidential counselling or access to more tools. Support is available 24 hours a day.
Physicians can contact the AMA Physician and Family Support Program at 1-877-SOS-4MDS.
Questions? Contact wellness@ahs.ca.
---
Register for meaning at work webinar on March 27
Join Sean Chilton, Vice President of People, Health Professions and Information Technology, as he hosts Our People Strategy webinar on meaning at work on March 27 from 2:30 p.m. to 3:30 p.m.
We will:
Discuss the concept of meaning at work.
Understand how this affects our overall well-being.
Hear inspiring stories from AHS staff connecting to their meaning at work.
Share strategies to help you connect with your meaning at work.
Provide supportive AHS tools and resources.
Questions? Email people.strategy@ahs.ca.
---
Mental Wellness Moment — mental health and addiction
In this Mental Wellness Moment, Dr. Nicholas Mitchell — Provincial Medical Director of Addictions and Mental Health with Alberta Health Services — talks about the link between mental health and addiction, and how treatment looks if an individual has both mental health and addiction issues.

---
Latest News
COVID-19 status and cases in Alberta
Hospitalizations and ICUs
On Feb. 27:
562 individuals were in non-ICU hospital beds with COVID-19, compared to 624 on Feb. 13, a 10 per cent decrease.
16 individuals were in ICU with COVID-19, compared with 19 individuals on Feb. 13, a 15.8 per cent decrease.
Note: Hospitalization data is presented with a one-week delay to more accurately reflect the number of hospitalized patients who tested positive for COVID-19. There is a delay in identification of some hospitalized cases due to the time between being admitted to hospital, getting tested, and getting test results.
Variants of concern
Alberta Precision Laboratories continues to closely monitor SARS-CoV-2 variants. From Feb. 13-19, an average of 54 per cent of positive samples were strain-typed by genome sequencing. Of those, 41 per cent were BQ.1.1, 19 per cent were other BQ.1 lineages and 28 per cent were XBB.1.5. Other BA.5 lineages and BA.2 lineages (including other XBB lineages) now make up the minority of cases. To date in Alberta, there have been 404 cases of XBB.1.5 and 137 cases of other XBB lineages.
Wastewater surveillance
Wastewater can provide an early indication of COVID-19 infection trends in a community. For wastewater surveillance comparing weekly averages:
Three sites increased by more than 25 per cent compared to the weekly average in the last report. These sites were Strathmore, Edson and Grande Prairie.
The other 17 sites decreased or had no significant changes.
The above interpretations were made from available data as of March 6 at 8 a.m.
Other notable COVID-19-related information
As of March 6, 5,622 individuals have passed away from COVID-19, including 66 deaths since the last report. We extend our condolences to the families of these individuals, and to all who have lost loved ones from any cause during this time.
As of March 6, 34,483 individuals have been hospitalized with COVID-19 in Alberta.
From Feb. 21 to March 6, 9,338 COVID-19 tests were completed, a 14-day average of 667 tests per day. During this period, the daily percent positivity ranged from 6.4 per cent to 9.7 per cent.
---
90-Day Report highlights AHS progress
Last week, AHS Official Administrator Dr. John Cowell shared his 90-Day Report on ongoing progress and action in our four key priority areas. Here are a few highlights:
Between September 2022 and January
Opened an average of 255 net-new, non-ICU acute care beds across the province.
Between November 2022 and January
Reduced emergency department wait time to see a doctor by 10 per cent.
Reduced total time spent in the emergency department for admitted patients by five per cent.
Opened 292 net-new designated supportive living beds.
Opened 26 net new mental health beds and 26 net new addiction beds (for a total of 52 beds).
Lowered the number of patients waiting for a continuing care space from 253 to 179.
Between November 2022 and February
Lowered the number of patients waiting outside the clinically recommended wait time for surgery from 39,246 to 35,595, a 9.3 per cent reduction.
---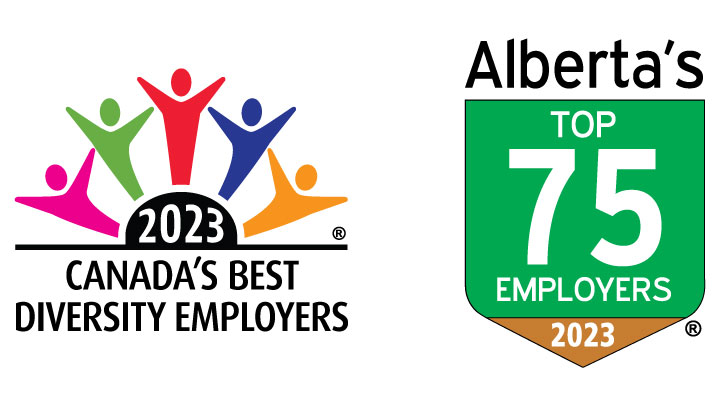 AHS recognized as a 2023 top employer
Thanks to our people's continued dedication and teamwork, AHS has been named one of Canada's Best Diversity Employers and one of Alberta's Top Employers.
Learn more about our ongoing efforts in being a more diverse and inclusive organization.
Thank you for making this possible. Learn more about these recognitions on Insite and see Our People Story for a year in review.
---
Updates to continuous masking requirements in non-clinical areas
Staff working in areas with no direct patient contact are no longer required to mask continuously. This includes corporate settings, health records department, some laboratory services, and clinical sites that are vacant or not yet commissioned.
AHS still requires continuous masking by workers in facilities/settings where they may come into direct contact with patients, designated family/support persons, or visitors.
We will continue to review masking in other areas and updates will be provided once our review is complete. As always, workers should be fit for work and use proper hand hygiene. Please continue to use the Point of Care Risk Assessment to make personal protective equipment (PPE) decisions in any areas.
Questions? See our Masking Directive FAQ.
---
Booster dose guidance updated
Alberta Health updated its guidance earlier this month related to booster dose eligibility. The Moderna and Pfizer-BioNTech original (monovalent) vaccines will no longer be offered as booster doses. Beyond the primary series of two or more COVID-19 vaccine doses, bivalent Omicron-targeting mRNA COVID-19 vaccines are the preferred booster products.
Eligible individuals 12 years of age and older can receive the bivalent mRNA COVID-19 booster dose at AHS public health clinics, local pharmacies or community medical clinics. Eligible children five to 11 years of age can receive the bivalent mRNA COVID-19 booster dose at AHS public health clinics only. Appointments can be booked online or by calling Health Link at 811.
Albertans who received a bivalent COVID-19 booster dose on or after Sept. 21, 2022, are considered up to date and are not currently eligible for another booster dose. Visit the Alberta Health webpage for more information.
---
Interim CEO message - addressing taboos in women's health
As this past Wednesday was International Women's Day, I felt it was an opportune time to highlight the importance of women's health.
We are very fortunate to have the Lois Hole Hospital for Women, which is dedicated to women's health and wellness. It offers specialized services for women under one roof, improving accessibility and quality care for all those who walk through its doors.
Unfortunately, there are some taboos around women's health that can prevent women from reaching out for the care they need.
Joining the AHS Vlog to tell us more about the importance of women's health and how we can address these taboos are:
Sharlene Rutherford, President and CEO of the Royal Alexandra Hospital Foundation
Dr. Jane Schulz, Professor and Chair Dept Obstetrics and Gynecology, Alberta Women's Health Foundation Endowed Chair, Lois Hole Hospital for Women

---
Still time to register for Health Professions Strategy & Practice Conference
It's not too late to register for the Health Professions Strategy & Practice Conference: Together in '23.
From March 13 to 17, hear from speakers who will ignite new perspectives, and inspire you to connect more deeply with yourself and those around you.
Three new session topics have been added to the schedule. Be sure to register for these sessions if you haven't already. Can't make the sessions? Register anyway for limited-time access to the recordings.
Please note some sessions have reached capacity. You can still register for these sessions and receive view-only access, meaning the chat box and Q&A functions will be unavailable. You will also be able to access recordings.
Register, view the schedule or learn more on Insite.
---
Get access to Montreal Cognitive Assessment (MoCA)
AHS clinicians and those providing services on behalf of AHS and/or its subsidiaries can now access this training and certification using an AHS-specific code.
Visit Insite to access the code. Questions? See the FAQ or contact Practice.Consultation@ahs.ca.
---
Edmonton Oilers 50/50 supports Operation Frontline Impact
Tickets are on sale until March 16 for the Edmonton Oilers Community Foundation Mega 50/50 raffle in support of Operation Frontline Impact and Wounded Warriors Canada.
Led by the Royal Alexandra Hospital Foundation, Operation Frontline Impact consists of 39 foundations that raise funds for healthcare across northern Alberta. Together, the group has partnered with the Edmonton Oilers Community Foundation to support front-line workers and address the emergent needs of hospital staff.
We are grateful to our foundation partners in northern Alberta and the Edmonton Oilers Community Foundation for their support through this initiative. More information.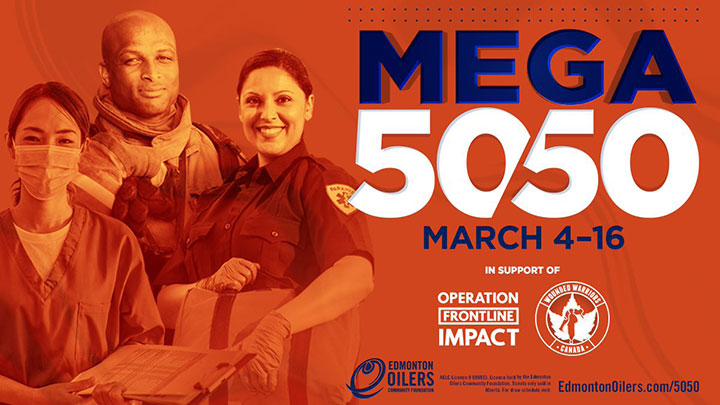 ---
Wrapping Up
This past Sunday, Alberta marked the third-year anniversary of the first confirmed case of COVID-19 in the province. This week's COVID-19 update shows the virus continues to take a toll on the health of Albertans, and I would like to thank all of you — those providing front-line care and those who support front-line care — for your overwhelming efforts and sacrifices over the past 36 months to care for patients and their families during this stressful and unprecedented time.
With enduring gratitude and appreciation,
Mauro Chies
Interim AHS President & CEO