We are all influenced by what is around us. Healthy food and drink choices make it easier to eat well, including items that are for sale in AHS.
"Food is the fuel for our bodies. Offering healthy food…in AHS facilities is a golden opportunity to walk the walk and be an example of what we teach." – AHS staff
What is a healthy food outlet?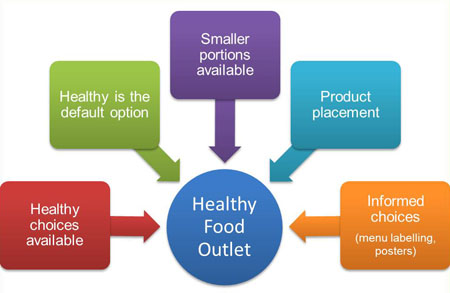 A healthy food outlet:
Offers healthy food and drink choices
Makes whole grain breads, healthy side dishes and drinks the default options (example: sandwiches are made with whole grain bread unless requested)
Offers option of smaller portions
Makes healthy food and drinks easier to choose by promoting and placing them in high traffic areas or at eye level on the shelf.
Provides customers with information to help them make healthy choices
Resources for retail food outlet operators
Operators may be at different stages of shifting to healthy food and drink choices. These resources will help operators start or keep working towards the Alberta Nutrition Guidelines for Adults, which are the gold standard for helping Albertans make healthier food and drink choices.
Looking for ideas from others?
Questions?
Email healthyeatingenvironment@ahs.ca.