---
Projects underway to ease ED pressures, land acknowledgement resources now online
Full Version
January 13, 2023
Please print and share with your teams as needed
To all staff, physicians and volunteers,
Action On Our Priorities
We are working to urgently address four key priorities. They are:
Improving EMS response times.
Decreasing emergency department wait times.
Reducing wait times for surgeries.
Improving patient flow through our sites and programs.
Much of this work is underway. We will continue to use this update to highlight actions being taken to urgently address our priorities.
---
Decreasing emergency department wait times
Know Your Options campaign in full swing
AHS is experiencing significant pressure on our healthcare system, particularly in emergency departments and across EMS. At times like this, it's important Albertans understand the options they have for care across the province. AHS has a website – ahs.ca/options – that's part of our Know Your Options campaign, designed to help Albertans find the right care for them and their families. Health Link 811 can also help when people aren't sure where to go for help. The campaign runs throughout the year on social media, online, radio, television and in various other advertising locations, with an increased presence during times when demand for emergency department volumes are higher.
Through this campaign, AHS assures Albertans they will receive the care they need and, if they are experiencing a serious or life-threatening situation, to always call 911 or visit the nearest emergency department. I encourage you to please share Know Your Options resources with others.
---
Improving patient flow
New transition beds open in Edmonton
Alberta Health Services (AHS) and Jasper Place Wellness Centre (JPWC) are partnering to open 36 new transition beds in Edmonton. which will be referred to as Bridge Healing Transitional Accommodation Program. These community beds are designed to improve health outcomes for people experiencing homelessness upon discharge from Edmonton hospital emergency departments (EDs).
When a patient who is experiencing homelessness is discharged from an Edmonton hospital ED, they have the option of being referred to one of these transition beds, which will be located in JPWC's Glenwood properties. Clients will have access to a range of community-based AHS services that address addiction, mental health and home care. The duration of stays in the program will vary depending on each person's situation.
It is our goal that, with access to more stable, ongoing healthcare supports in the community, we can better care for this vulnerable population and prevent repeat ED visits.
---
Virtual MD program celebrates one-year anniversary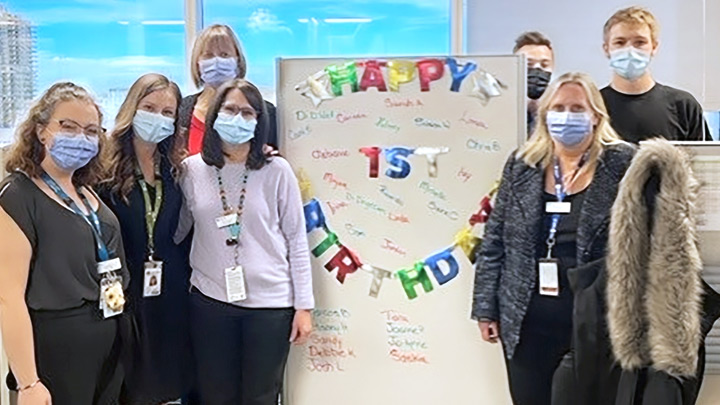 Health Link's Virtual MD team recently celebrated a milestone event, marking one year since the program debuted on Jan. 10, 2022.
Under the program, Health Link callers can be referred, when clinically appropriate, to a physician to virtually assess them over the phone or through a secure Zoom link. Nurse practitioners were recently added to the team, and now work in parallel with program physicians to provide assessment and advice to patients who need to see a care provider within a 24-hour period.
"We're so proud of the success of Virtual MD and how it embodies AHS' progress in finding innovative ways to support Albertans in their home communities. I'm incredibly grateful to the physicians, nurse practitioners and Health Link staff whose dedication and skill have made this program a success," says Tricia Chambers, Senior Provincial Director, Virtual Care, Access and Navigation.
To date, more than 15,700 patients have been assessed through Virtual MD.
---
Reducing wait times for surgeries
New program helps improve access to specialists
The Alberta Facilitated Access to Specialized Treatment (FAST) program enables family doctors and other providers to send referrals for urology or orthopedic surgery to a central team, which can then assign the referral to a specialist with the shortest wait-list.
Referring providers, find out how to use FAST:
The FAST program will expand to all surgical specialties in the upcoming months.
---
We're currently at an average of 103 per cent of normal volumes, and our total surgical wait-list for adults sits at 70,004. For comparison, in February 2020, before the pandemic, our total wait-list was 68,000. Of those 70,004 patients waiting, approximately 45 per cent, or 31,314, are waiting within clinically recommended wait times.
Approximately 211,800 surgeries have been completed in the 2022/23 fiscal year.
---
Work continues on other AHS priorities, including:
Land acknowledgements available online
Out of respect and honour for the people who took care of this land since time immemorial, it is important we acknowledge the traditional territories where we live, work and play whenever we can. It's also important we differentiate between zones and the treaty areas that apply to those lands. That is why AHS has taken steps to make resources related to land acknowledgements more accessible to AHS staff. You will find everything you need to deliver a respectful land acknowledgement on Insite. For more information or to view the AHS online training to help develop your personal land acknowledgement, visit Land Acknowledgements on Insite.
---
South Zone Indigenous patient navigation service resumes
Indigenous Peoples can once again contact the Four Winds South Zone Project to support navigation and coordination of access to Alberta Health Services (AHS). This service has returned after being put on hiatus to respond to pandemic health needs.
Indigenous patient navigators work with Indigenous patients alongside clinical teams to promote health equity for Indigenous Peoples. They navigators support patients with pre-admission to access health-related programs and support continuity of care; emergency or hospital admission to assist the healthcare team to provide medical translation of the diagnosis and hospital process; inpatient stays to provide support, medical translation and education to patients and families; and discharge to assist Indigenous patients navigate services and programs between hospital and community.
The service is available at Chinook Regional Hospital in Lethbridge, Cardston Health Centre, Pincher Creek Health Centre and Fort Macleod Health Centre. The Four Winds team are members of Kainai, Piikani and Sandy Lake (ON) First Nations.
---
Your Wellness
Kick-start your wellness
Get a head start on your wellness journey for the new year with these supports:
If you need support with any issue, call the Employee and Family Assistance Program (EFAP) intake line at 1-877-273-3134. Physicians can contact the AMA Physician and Family Support Program at 1-877-SOS-4MDS for options and support.
Questions? Contact wellness@ahs.ca.
---
Get immunized for influenza, report your immunization
The influenza season is far from over. That is why it is crucial to get immunized and report your influenza immunization status using the Got My Flu Shot form to support Workplace Health and Safety (WHS) in managing outbreaks.
As of Dec. 31, there are 8,335 lab-confirmed cases of influenza with 1,812 hospitalizations and 77 deaths in Alberta. By comparison, there were 2,906 lab-confirmed influenza cases with 523 hospitalizations and 14 deaths reported during the entire 2021-2022 influenza season.
Note: You do not need to report your immunization if you received it through a WHS clinic or a site champion.
Questions? See Insite.
---
Mental Wellness Moment — the connection between food and mood
In this Mental Wellness Moment, Dr. Nicholas Mitchell — Provincial Medical Director of Addictions and Mental Health with Alberta Health Services — explains how food can affect your mood and lists some foods that are good for mental health.

Latest News
COVID-19 Status
Hospitalizations and ICUs
On Jan. 2:
911 individuals were in non-ICU hospital beds with COVID-19, compared to 837 individuals on Dec. 26, an 8.8 per cent increase.
44 individuals were in ICU, compared with 43 individuals on Dec. 26, a 2.3 per cent increase.
Note: Hospitalization data is presented with a one-week delay to more accurately reflect the number of hospitalized patients who tested positive for COVID-19. There is a delay in identification of some hospitalized cases due to the time between being admitted to hospital, getting tested, and getting test results.
Variants of Concern
Alberta Precision Laboratories continues to closely monitor SARS-CoV-2 variants. From Dec. 19 to 25, an average of 78 per cent of positive samples were strain-typed. An estimated 29 per cent were BQ.1.1 and 36 per cent were other BQ.1 lineages (based off the previous month's sequencing results). Other BA.5 lineages and BA.2 lineages (including XBB.1.5 and other XBB lineages) now make up the minority of cases. To date in Alberta, we have seen 16 cases of XBB.1.5 and 43 cases of other XBB lineages.
Wastewater Surveillance
Wastewater can provide an early indication of COVID-19 infection trends in a community. For wastewater surveillance comparing weekly averages:
Eight sites increased by more than 25 per cent compared to the weekly average in the last report. These sites were Brooks, Strathmore, Calgary and area, Red Deer and area, Alberta Capital Region, Jasper, Cold Lake and Grande Prairie.
The other 13 sites decreased or had no significant changes.
The above interpretations were made from available data as of Jan. 9 at 8 a.m. Note: High River and Fort McMurray's latest wastewater report dates were Dec. 22 and Dec. 28, respectively.
Other notable COVID-19-related information
As of Jan. 9, 5,443 individuals have passed away from COVID-19, including 135 deaths since the last report four weeks ago. We extend our condolences to the families of these individuals, and to all who have lost loved ones from any cause during this time.
As of Jan. 9, 33,285 individuals have been hospitalized with COVID-19 in Alberta.
From Dec. 27 to Jan. 9, 12,745 COVID-19 tests were completed, a 14-day average of 910 tests per day. During this period, the daily percent positivity ranged from 12.4 per cent to 18.5 per cent.
---
Encouraging prevention of COVID-19 variant XBB.1.5
The Omicron subvariant XBB.1.5 is now circulating in Alberta and is described by the World Health Organization as the most transmissible subvariant yet detected. Given its global history, it's likely to become the next dominant strain in Alberta. At this time, there is no indication this variant causes more severe illness than previous Omicron strains, but it may spread more easily and its relative virulence is yet to be determined.
Early indications are that bivalent booster doses of the COVID-19 vaccine will be effective in protecting against severe disease caused by XBB.1.5, though perhaps not as much against infection. XBB.1.5 is an Omicron variant in the BA.2 lineage and, although the bivalent vaccine was developed for other Omicron variants, it has been shown to generate antibodies that recognize BA.2.
Vaccines continue to be the best defense against severe outcomes and death from COVID-19 infection, so all Albertans should be encouraged to seek a dose of bivalent booster as soon as they are eligible (i.e., five months or longer after their last dose of vaccine or infection with COVID-19).
The appearance of this new variant highlights the ongoing need to prevent COVID-19 transmission, which includes:
Getting immunized against COVID-19 and influenza.
Practising good hand hygiene.
Staying home when sick.
Using a well-fitting mask in crowded indoor public places.
For details on prevention, visit COVID-19 info for Albertans | Alberta.ca.
---
Additional immunization choices for children now available
The Pfizer Comirnaty BA.4/BA.5 bivalent COVID-19 vaccine booster is now available for children aged 5 to 11 years of age. Children in this age group who completed their primary series can get the Pfizer BA.4/BA.5 bivalent booster dose through AHS public health clinics. While it is recommended that children aged 5 to 11 years of age receive one booster dose after their primary series, the bivalent booster dose can be offered to children considered at high risk of severe COVID-19 who have previously received a booster dose with the Pfizer monovalent COVID-19 vaccine.
Bivalent COVID-19 vaccines are designed to protect against two strains of the COVID-19 virus. One part of the bivalent vaccine targets the original strain of the virus, and the second part targets the Omicron BA.4/BA.5 subvariants. Parents and guardians can book an appointment for this vaccine for their child by calling Health Link at 811.
---
Novavax vaccine available for youth 12-17 years
The Novavax Nuvaxovid COVID-19 vaccine is now available as a primary series or as a booster dose for youth 12 to 17 years old. The vaccine will only be available at select AHS public health clinics across Alberta and will not be offered at community pharmacies or community medical clinics.
Albertans can book a Novavax appointment by calling Health Link at 811.
---
Interim CEO video message – innovations in endoscopy
One of the benefits of being a provincial health system is being able to share best practices across our sites to improve the quality of care we provide.
A recent example: the work of the Digestive Health Strategic Clinical Network (SCN) and the Alberta Colorectal Cancer Screening Program. They implemented the Canada-Global Rating Scale at all 50 endoscopy sites in Alberta. This tool provides an opportunity to track trends, identifying successes and areas of improvement.
Joining the AHS Vlog to tell us more about what they've learned and some of their next steps are:
Carmen Oilund, Senior Practice Consultant with the Digestive Health SCN and lead for the C-GRS project.
Rich Reichman, Endoscopy Unit Manager at the Grey Nuns Community Hospital and the Misericordia Hospital in Edmonton.
Dr. Clarence Wong, Section Chief, Gastroenterology, Edmonton Zone; and Co-Chair for the Provincial Endoscopy Operations Committee.

---
Participate in local decision-making discussions
Bring your ideas into the new year by helping us guide our path forward on local decision-making.
As we continue with our ongoing efforts on what local decision-making currently looks like across AHS, our focus is on three emerging themes, and gathering your ideas on how we can make improvements and remove barriers to:
Simplify finance and human resources processes
Reduce administrative burden
Improve culture
AHS has taken steps in the right direction by improving processes for hiring and purchasing, and pausing Operational Best Practice work, but there is more work to do. Join us by visiting Together4Health page to share your ideas and build off others as we look for solutions that will impact your day-to-day work. Local voices and perspectives will guide our path forward and we want yours to be heard.
See item below for one example of how we're reducing administrative burden.
---
Resignations and retirements — employee submissions in e-People
Employees now have the option of submitting their own voluntary resignations and retirements in e People Employee Self Service (ESS). For instructions, review the Submitting a Resignation or Retirement reference guide.

Email notifications will be provided to employees and managers when requests are submitted in e-People. Managers can still initiate employee resignations and retirements on an employee's behalf or if the employee has not already done so.

Additional information for managers can be found on the View Terminate Employee Status and View Retire Status pages in MSS. For instructions, review the Processing a Termination or Retirement reference guide.
---
Wrapping Up
The first AHS Update of 2023 comes to a close. I hope you all had a chance to find some rest and joy over the holidays, and I offer my best wishes to all of you, your colleagues and your loved ones in 2023. Thank you for everything you do, each and every day.
Mauro Chies
Interim AHS President & CEO