---
AHS pandemic response started three years ago, new vendors to increase capacity for ortho surgeries
Full Version
January 27, 2023
Please print and share with your teams as needed
To all staff, physicians and volunteers,
Opening Message of Gratitude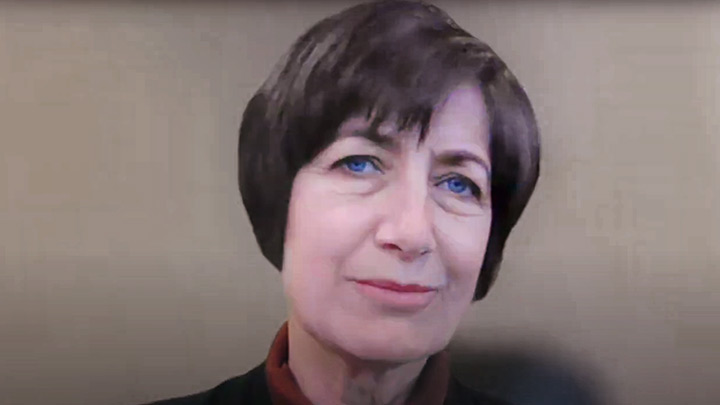 Jan. 30 will mark the third anniversary of setting up the Emergency Co-ordination Centre in response to what would eventually become the COVID-19 pandemic. Your dedication and innovation have defined our response from that moment until now.
No matter the pressures we've faced, you've continued to do amazing things every day, inspiring Albertans everywhere. Thank you to everyone, in every part of AHS, for everything you do. Your work continues to protect the health of Albertans throughout the ongoing pandemic. In this video, Dr. Laura McDougall, AHS Senior Medical Officer of Health, offers a message of gratitude.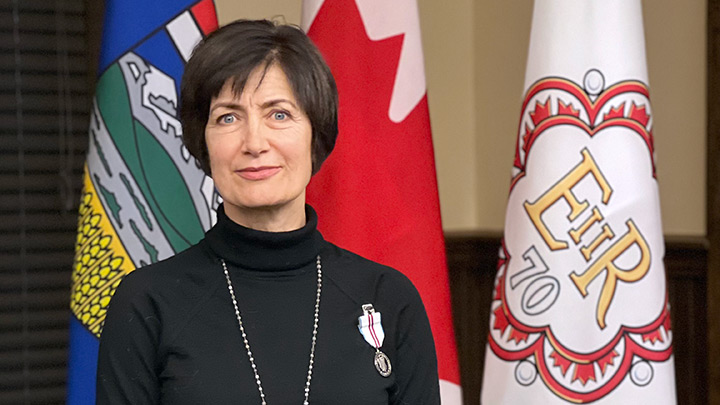 In related news, Dr. McDougall was presented the Queen Elizabeth II's Platinum Jubilee Medal earlier this week in recognition of leadership in delivering public health services, including cancer prevention and screening, and AHS's COVID-19 response. Medal recipients are recognized for making a significant contribution to Canada, Alberta, or to a particular Alberta region or community. Dr. McDougall credits all AHS teams, including Public Health, for their extraordinary efforts during the pandemic and their ongoing dedication to creating conditions that improve population health outcomes for everyone in Alberta.
Action On Our Priorities
We are working to urgently address four key priorities. They are:
Improving EMS response times.
Decreasing emergency department wait times.
Reducing wait times for surgeries.
Improving patient flow through our sites and programs.
Much of this work is underway. We will continue to use this update to highlight actions being taken to urgently address our priorities.
---
Improving EMS response times
Action plan to address EMS recommendations
Alberta's government announced earlier this month it will be accepting all recommendations of both the Alberta Emergency Medical Services Provincial Advisory Committee report and the independent dispatch review, and is working on a plan of action to carry them out.
Actions identified by front-line workers, municipalities and other EMS partners are being put in place, including:
Adding 20 extra ambulances during peak hours — expected to start rolling out in the spring in Calgary and Edmonton.
Fast-tracking ambulance transfers at emergency departments (EDs) by moving less urgent patients to hospital waiting areas, based on new provincial guidelines.
Freeing up paramedics by contracting appropriately trained resources for non-emergency transfers between facilities in Edmonton and Calgary.
Empowering paramedics to assess a patient's condition on scene and decide whether they need to be taken to an ED by ambulance.
---
Reducing wait times for surgeries
New vendors to provide orthopedic surgeries for Albertans
As announced by the Government of Alberta, AHS is taking important steps forward to reduce wait times for procedures, such as hip and knee arthroplasty surgeries. One such step began Jan. 1, through a new contract that was established as the result of a formal RFP process with Canadian Surgery Solutions, a chartered surgical facility (CSF) in the Calgary Zone.
Through this contract, a minimum of 3,000 additional publicly funded orthopedic procedures will be provided to Albertans each year, and will support our goal to seek innovative solutions for patient-centred surgical care now and for the future.
This work is part of the Alberta Surgical Initiative (ASI), which focuses on improving the patient journey and will shape demand, manage capacity, and improve the patient's journey to receiving surgery.
---
We're currently at an average of 91 per cent of pre-pandemic volumes, and our total surgical wait-list for adults sits at 71,072. For comparison, in February 2020, before the pandemic, our total wait-list was 68,000. Of those patients waiting, approximately 45 per cent are waiting within clinically recommended wait-times. Approximately 222,900 surgeries have been completed in the 2022/23 fiscal year.
Please note: the drop in volume from previous reporting reflects a surgical slowdown that occurs over the holidays. A planned reduction of scheduled surgeries happens once a year, over the holidays, to give staff and physicians the opportunity to spend time with their loved ones.
---
Work continues on other AHS priorities, including:
Survey helps AHS understand vaccine hesitancy
Between Nov. 17 and Dec. 31, AHS hosted a survey on Together4Health to understand where and how Alberta parents and guardians seek information about routine childhood immunization. The short, anonymous survey was designed to guide AHS in developing and sharing information that meets the needs of parents. Of the 8,938 total survey responses, one-third were from the North, Central and South zones. AHS' Public Health teams will be looking at the data by zone to better understand local reasons for vaccine hesitation.
---
Oyen Community event begins important conversation
AHS hosted a community conversation on Jan. 12 to discuss the temporary daily closures of the Big Country Hospital emergency department between 7 p.m. and 7 a.m. More than 550 community members from Oyen and the surrounding area gathered to express their concerns to AHS representatives. Local and zone AHS leaders responded to concerns about the temporary closure, site management, and the effort to implement a sustainable staffing model. AHS is following up with Oyen residents recapping what was heard at the engagement session, meeting regularly with community leaders and sharing community updates as they arise.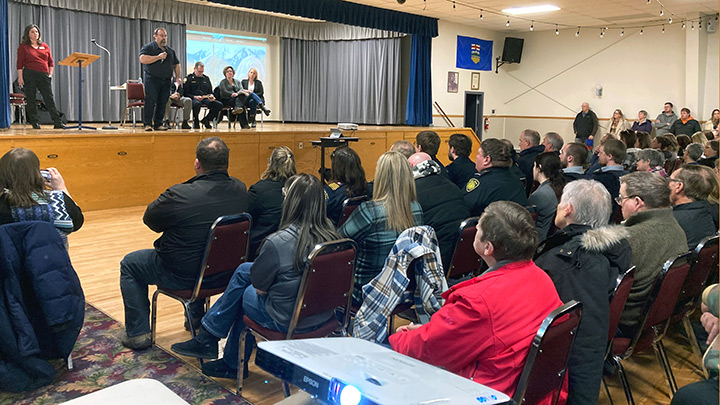 Community members from Oyen and the surrounding area gathered at the AHS engagement session about daily, 12-hour closures of the local emergency department.
---
Your Wellness
Learn more about your physical, emotional health
Want to learn more about your health? Try the Employee and Family Assistance Program health risk assessment (HRA).
The HRA offers a confidential assessment on your health history, lifestyle habits and emotional health, such as work-life balance and stress. When you log on to Homeweb, click on 'tools' to access the HRA assessment. It also helps you identify your health and wellness barriers.
To support your health and well-being, contact the EFAP intake line. Physicians can contact the AMA Physician and Family Support Program, a confidential 24/7 support line, at 1-877-SOS-4MDS for options and support.
Questions? Contact wellness@ahs.ca.
---
Support available for those distressed by residential school investigations
This week the Acimowin Opaspiw Society released its findings surrounding a former residential school site near Saddle Lake Cree Nation in AHS North Zone where the remains of more than 200 people, mostly children, were found in mass graves near the former Sacred Heart Residential School. Also this week, Williams Lake First Nation in B.C. announced the remains of 159 people were found near St. Joseph's Mission Residential School.
Support is available for those distressed by the findings of these two investigations. Resources are available on AHS.ca, and through the Government of Canada. The Indian Residential Schools Crisis Line is also available 24 hours a day at 1-800-721-0066. More information can be found on the First Nations Health Authority website.
The first steps to reconciliation are awareness and education. If you haven't done so, you're encouraged to complete the Required Organizational Learning: Indigenous awareness training available on MyLearning Link.
---
Mental Wellness Moment — the link between heart health and mental health
February is Heart Month and, in this Mental Wellness Moment, Dr. Nicholas Mitchell talks about how heart health can affect mental health, and vice versa.
Latest News
COVID-19 Status
Hospitalizations and ICUs
On Jan. 9:
827 individuals were in non-ICU hospital beds with COVID-19, compared to 911 on Jan. 2, a 9.2 per cent decrease.
29 individuals were in ICU with COVID-19, compared with 44 on Jan. 2, a 34.1 per cent decrease.
Note: Hospitalization data is presented with a one-week delay to more accurately reflect the number of hospitalized patients who tested positive for COVID-19. There is a delay in identification of some hospitalized cases due to the time between being admitted to hospital, getting tested, and getting test results.
Variants of Concern
Alberta Precision Laboratories continues to closely monitor SARS-CoV-2 variants. From Jan. 2 to 8, an average of 77 per cent of positive samples were strain-typed. An estimated 39 per cent were BQ.1.1 and 34 per cent were other BQ.1 lineages (based off the previous month's sequencing results). Other BA.5 lineages and BA.2 lineages (including XBB.1.5 and other XBB lineages) make up the minority of cases. To date in Alberta, we have seen 44 cases of XBB.1.5 and 77 cases of other XBB lineages.
Wastewater Surveillance
Wastewater can provide an early indication of COVID-19 infection trends in a community. For wastewater surveillance comparing weekly averages:
Four sites increased by more than 25 per cent compared to the weekly average in the last report. These sites were Brooks, Jasper, Cold Lake and Lacombe.
16 other sites decreased or had no significant changes.
High River has not recorded new data since Dec. 22, 2022.
The above interpretations were made from available data as of Jan. 25 at 8 a.m.
Other notable COVID-19-related information
As of Jan. 16, 5,470 individuals have passed away from COVID-19, including 27 since the last report. We extend our condolences to the families of these individuals, and to all who have lost loved ones from any cause during this time.
As of Jan. 16, 33,434 individuals have been hospitalized with COVID-19 in Alberta.
From Jan. 3-16, 13,395 COVID-19 tests were completed, a 14-day average of 957 tests per day. During this period, the daily percent positivity ranged from 8.0 per cent to 17.7 per cent.
---
You can report clinical adverse events using RLS
It is important to report hazards, close calls and clinical adverse events (CAEs) in order to identify patient safety problems and make improvements.
AHS has a single, provincewide system for patient safety reporting called the Reporting & Learning System for Patient Safety (RLS). Anyone with AHS login credentials can access RLS to report patient safety events. All staff and physicians have a responsibility to report patient safety events. When you report a CAE, close call, or hazard though RLS, the submission is reviewed, trended and shared to help us learn as an organization. Reporting helps to identify patient safety problems and to make improvements.
We encourage you to consistently submit CAEs and other patient safety problems using RLS, available on Insite.
---
Ebola Virus Hemorrhagic Fever (Sudan strain) outbreak declared over
On Jan. 11, the Government of Uganda, in collaboration with the World Health Organization, declared the Ebola Virus Hemorrhagic Fever (Sudan strain) outbreak to be over. AHS is in the process of planning the demobilization of the enhanced Ebola Virus Disease processes; the exact timeline for demobilization is to be determined.
As of Jan. 27, the following additional measures for returning travellers from Uganda will end:
Enhanced screening measures for patients presenting for malaria test requests.
Special management of persons who had travelled to Uganda in the previous 21 days.
Laboratory process (Lab bulletin available here)
The following measures will continue:
Routine processes for query Viral Hemorrhagic Fever (IPC/PPE precaution, isolation, notification/consult of the zone Medical Officer of Health, and testing).
AHS.ca/ebola will continue to be live and documents will be reviewed, updated and posted.
Ebola Virus Disease/Viral Hemorrhagic Fever tabletop exercises will continue as scheduled into February.
---
Physical distancing still recommended
Physical distancing continues to be recommended in all AHS settings to limit the spread of respiratory disease. This includes patient care areas, non-clinical areas and common spaces, including the cafeteria, staff rooms, in waiting areas, and when meeting with colleagues. Clinical staff should perform a point of care risk assessment to protect themselves and others by using the appropriate PPE when physical distancing cannot be maintained. Our continuous masking directive remains in place at all AHS facilities provincewide. All staff members are required to wear procedure masks when contact with patients can be anticipated. This includes staff who walk through patient care areas to access their workspace. Non-clinical staff are required to don a mask prior to entering any AHS workplace or facility and to remain wearing it until they are in their cubicle or office, behind an appropriate barrier, or otherwise appropriately distanced from others.
---
Interim CEO video message – spotlight on RAAPID
Today the AHS Vlog highlights the work of RAAPID, an essential part of our healthcare system.
Unique in Canada, it is a call centre designed to provide a single point of contact for physicians and healthcare providers to access appropriate and timely advice, referral, admission, repatriation and consultation for patients.
The RAAPID team facilitates the return of patients to a healthcare facility closest to their home address that will best meet the patient's healthcare needs.
In fact, the success of RAAPID has resulted in other healthcare agencies in Canada using it as a model when they look to create or expand their own services.
Joining the AHS Vlog to tell us more about what they've learned and some of their next steps are:
John Montpetit, Provincial Director, RAAPID.
Tricia Chambers, Senior Provincial Director, Virtual Care, Access and Navigation.

---
Clinical Ethics Lunch 'n' Learn: when you suspect elder abuse
Many everyday issues in healthcare are complex with unclear answers. Identifying and thinking through challenging issues using an ethics lens can give insight into navigating them.
Ethics Lunch 'n' Learn Series explores common healthcare issues, identifies the ethical considerations at play, and provides an ethical framework for thinking through challenging situations. Each 30-minute session focuses on a case study with a Q&A to follow.
Join the second session, When you Suspect Elder Abuse:
Thursday, Feb. 2: 11:30 a.m.: Register to receive Zoom info.
Friday, Feb. 3, noon: Register to receive Zoom info.
Discover more sessions in the series.
---
Register today — virtual conference for healthcare providers
Health Professions Strategy & Practice Conference: Together in '23 will explore what connects us and how we can nurture, grow or recover connections with one another.
From March 13 to 17, hear from speakers daily who will ignite new perspectives and inspire you to connect more deeply with yourself and those around you.
One-hour sessions will be held daily through Microsoft Teams. This year, providers can register by session (for as many as they'd like).
Register, view the schedule or learn more.
---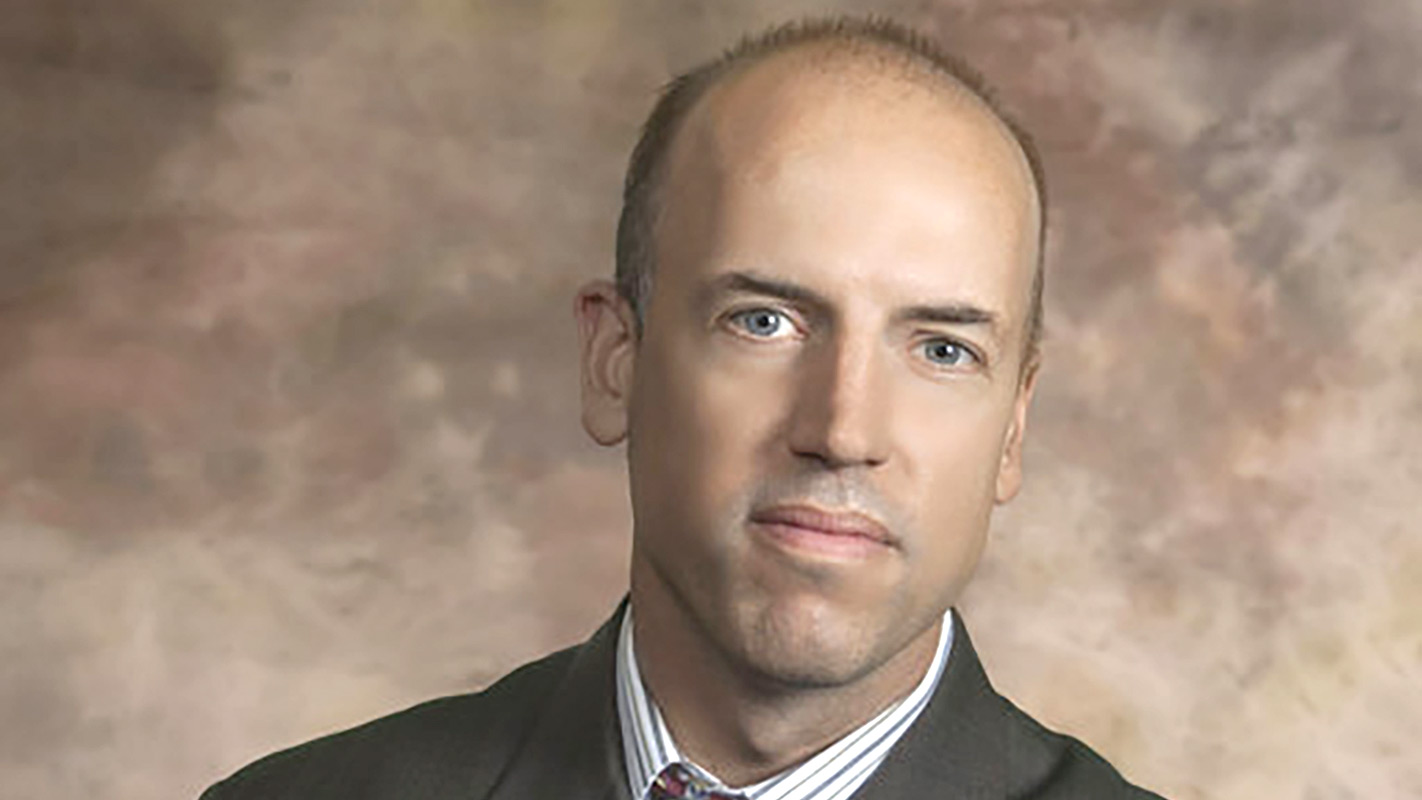 Renowned stroke physician receives Order of Canada
Dr. Michael Hill has been appointed as an Officer of the Order of Canada. The national honour was granted for "his major contributions to the advancement of acute stroke care and treatment at the provincial, national and international levels." Dr. Hill is a neurologist and stroke clinician at the Foothills Medical Centre, a professor at the Cumming School of Medicine, a researcher and the current president of the Canadian Neurological Sciences Federation. Congratulations to Dr. Hill!
---
Wrapping Up
As mentioned earlier, we are entering our fourth year of pandemic response. I want to close off by offering my gratitude and appreciation for your ongoing efforts and sacrifices, and encouraging you to seek support if you need it. Call the Employee and Family Assistance Program (EFAP) intake line at 1-877-273-3134. Physicians can contact the AMA Physician and Family Support Program at 1-877-SOS-4MDS for options and support.
We are making progress on our key priority areas, and some of the capacity pressures on our sites are lifting slightly. I'm grateful for all your ongoing work. Thank you for everything you do, each and every day.
Mauro Chies
Interim AHS President & CEO