Alberta Health Services aims to continually improve the quality of care we provide to the people we serve. Below is a collection of stories and videos, updated regularly, about the new programs and services, leading-edge technology and groundbreaking research that are improving the lives of Albertans, wherever they live in our province.
June 5, 2013
Researchers test probiotic as treatment for stomach flu Alberta Children's Hospital physician leads national study
May 15, 2013
Initiative helps Edmonton hip, knee clinic reduce wait times Time from referral to consult reduced by 80 per cent
May 6, 2013
Absorbable stent boosts circulation, dissolves in body Leading-edge treatment ideal for some cardiac patients
April 26, 2013
Let's get something straight New hope for patients with bowed legs, skeletal problems
Archived Stories
April 25, 2013
Well-balanced health care delivery New AHS clinic offers one-stop care for dizziness
April 18, 2013
Now that's a sound idea Pioneering use of diagnostic standby helps bowel patients
March 25, 2013
Cancer patient navigators lend guiding hand New provincial program expands into smaller communities
March 12, 2013
It's important for me to say 'thanks' Realtor reunites with ambulance crew who restarted his heart
March 1, 2013
New Calgary Cancer Centre planned Better patient care, treatment and research for southern Albertans
February 22, 2013
Choices target mental health Program provides group support for teens, young adults
February 15, 2013
Research sheds light on diagnostic heart failure Alberta HEART team dedicated to diagnosis, prevention, treatment
February 12, 2013
True gift of love for Valentine's Day Foundation-supported hospital room keeps family together
February 6, 2013
Efficiency initiative reduces wait times by half Calgary program helps families control chronic condition
February 4, 2013
ED visits, hospitalizations for pediatric asthma reduced Calgary program helps families control chronic condition
January 24, 2013
Bringing care home for Aboriginal women New outreach clinics put primary care within walking distance
January 24, 2013
First gene therapy trial launched for Fabry disease Alberta lab, researchers playing key role in Canadian study
January 21, 2013
Hope where none existed Fort McMurray clinic treats homeless to a healthier future
January 15, 2013
CT scanner a crucial addition for Fort Sask Fast scans give 3-D picture of what's going on inside the body
January 2, 2013
Chillin' in the ICU Foundation to give cardiac patients the cold shoulder – to save lives
December 31, 2012
EMS crew catches two-minute Myles Speedy delivery for a Canmore paramedic team
December 28, 2012
Recycling software into health care Foundation program gives seniors a welcome lift
December 27, 2012
A place for healing ... and hope Red Deer facility guides mental health patients back into society
December 24, 2012
Gifts from her heart Girl, 9, shares birthday presents with hospitalized children
December 21, 2012
Gut check time HS opens state-of-the-art centre for gastrointestinal problems
December 20, 2012
Finding hemo Doctor recalls bringing treatment for chronic renal failure to Canada
December 18, 2012
Santa's elves have been spotted Stockings being stuffed for patients in Pincher Creek.
December 18, 2012
Celebrating our Success 2012 & Beyond Employees, physicians and volunteers of AHS raise the bar for improving patient care and health services
December 14, 2012
Surgery dials down blood pressure Edmonton first in West to offer groundbreaking procedure
December 12, 2012
Skating on solid foundation 24-hour hockey game scores a hat trick for health
December 12, 2012
Cardiac patients feeling gym dandy Exercise program 'give us all a sense of camaraderie'
December 7, 2012
New iPhone app keeps up the beat In-depth advice on heart-failure meds now at doctors' fingertips
December 5, 2012
Kaye Edmonton Clinic a one-stop shop for outpatient services Facility made possible by one-time $30-million donation
November 30, 2012
Experimental treatment may save baby's life AHS doctors perform Canada's first liver cell infusion
November 28, 2012
Minimally invasive heart valve procedure an Alberta first Repairs done without cutting through breastbone
November 19, 2012
Blood sugars under control New protocol shortens hospital stays for diabetic patients
November 19, 2012
Powerful diagnostic tool to benefit children New technology provides better images of developing brains
November 16, 2012
Heartening development Cardiac health in Alberta appears to be improving: study
November 14, 2012
Quicker ticker fixer ASPIRE program repairs heart with no hospital stay
November 7, 2012
Drug offers new pain management therapy for diabetics Clinical trial studied 60 patients suffering from nerve pain
November 6, 2012
Gift from the heart, for the heart 150 defibrillators being distributed to facilities across Alberta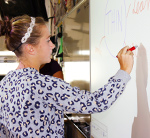 November 2, 2012
Kit promotes mental wellness among junior high students
New resource used in curriculum throughout Edmonton Zone
November 2, 2012
Happy birthday, indeed!
AHS helps daughter wish mom happy 100th.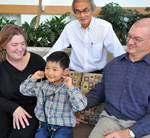 October 23, 2012
Cardiologist develops new stent
New system could revolutionize how blood vessels are opened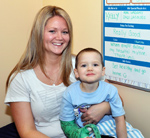 October 22, 2012
Stollery moves in 'write' direction
Whiteboards in patient rooms provide peace of mind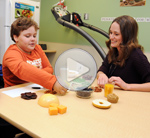 October 19, 2012
New pediatric weight clinic
Specialists help families make healthy lifestyle changes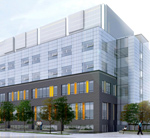 October 18, 2012
Redevelopment projects finalized
Improvements slated for Lethbridge, Medicine Hat hospitals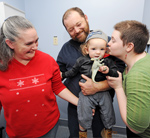 October 17, 2012
Pediatric brain-tumor clinic
Pediatric brain-tumour clinic a 'home base' for families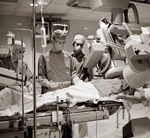 October 16, 2012
Book takes history to heart
Authors chart 80-year story of Alberta cardiac institute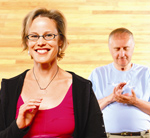 October 15, 2012
AHS seeks best supplements
Patient uses yoga and meditation to 'erase the pain'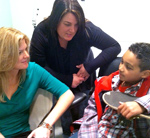 October 11, 2012
Back on 'board
Edmonton boy on a roll after referral to epilepsy clinic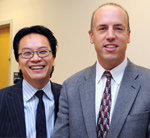 October 10, 2012
Breakthrough stroke drug...
Clinical trial has potential to be 'a major leap forward'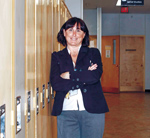 October 5, 2012
Top marks for public nurses
Grande Prairie high school students benefit from on-campus resource
Every day, and in all areas of the province, significant progress is being made toward building a patient-focused, quality health system that is accessible and sustainable for all Albertans.
Learn more about the innovative projects, procedures and technology that are shaping the largest integrated health system in Canada.
---
Keep informed about the latest Innovations in AHS.
Follow us on Twitter:
AHS Innovates
New to Twitter? Sign up here!