The AHS Healthy Eating Challenge is a fun and engaging way to promote healthy eating and team building in your workplace.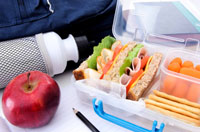 The challenge is four weeks long with a new theme each week.
Pick from the challenge activities each week and earn points for activities you complete.
Take part on your own or as part of a team.
The Healthy Eating Challenge Toolkit has everything a coordinator will need to run the challenge at your workplace.
Here is a sample of you will find the toolkit:
See how other coordinators have used the toolkit: